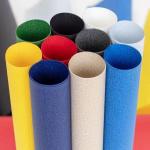 Packaging is ultimately what sells your product. The unique colors and bold textures of the Polytrade Packaging Series can draw attention, send a message, and attract potential consumers while leaving a lasting impression.
Finish: Bark, Velvet, Bubble, Smooth
Characteristics: The bold patterns will make your packaging stand out from the rest and make a lasting impression.
Applications: Packaging box, gift box, book cover, invitation, etc.
| Code No. | Sub. Weight | Color | Finish | Size | FSC™ | Recycled | Low carbon |
| --- | --- | --- | --- | --- | --- | --- | --- |
| P12KH25-4F | 120 gsm | Grey | Bark | 787x1092mm | | - | - |
| P12KC35-4F | 120 gsm | Camel | Bark | 787x1092mm | | - | - |
| P12KR28-4F | 120 gsm | Red | Bark | 787x1092mm | | - | - |
| P12KB14-4F | 120 gsm | Deep Blue | Bark | 787x1092mm | | - | - |
| P12KP04-4F | 120 gsm | Deep Purple | Bark | 787x1092mm | | - | - |
| P12BY17-4F | 120 gsm | Egg Yolk | Bubble | 787x1092mm | | - | - |
| P12BY04-4F | 120 gsm | Orange | Bubble | 787x1092mm | | - | - |
| P12BR28-4F | 120 gsm | Red | Bubble | 787x1092mm | | - | - |
| P12BG20-4F | 120 gsm | Deep Green | Bubble | 787x1092mm | | - | - |
| P12BK09-4F | 120 gsm | Black | Bubble | 787x1092mm | | - | - |
| P12VW02-4F | 120 gsm | Brilliant White | Velvet | 787x1092mm | | - | - |
| P12VC01-4F | 120 gsm | Beige | Velvet | 787x1092mm | | - | - |
| P12VH36-4F | 120 gsm | Deep Grey | Velvet | 787x1092mm | | - | - |
| P12VC36-4F | 120 gsm | Coffee | Velvet | 787x1092mm | | - | - |
| P13VR28-4 | 130 gsm | Red | Velvet | 787x1092mm | - | - | - |
| P12SR11-4 | 120 gsm | Warm Red | Smooth | 787x1092mm | - | - | - |
FSC™ Mix




Acid Free