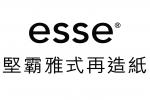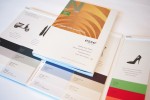 ESSE®, a paper with presence.
Our most distinctive premium paper systerm, ESSE® Paper's patented watermarked surface and renewed color palette blends precision with craft.
Finish: Smooth, Textured
Characteristics: Available in pearlized finishes and timeless color palette by Beatrice Santiccioli.
Applications: Stationary and letterheads, corporate brochures, annual reports, direct mailers, etc.
| Code No. | Sub. Weight | Color | Finish | Size | FSC™ | Recycled | Low carbon |
| --- | --- | --- | --- | --- | --- | --- | --- |
| ES801-1 | 298 gsm | White | Smooth | 660x1016mm | - | 30% | - |
| ET601-1 | 118 gsm | White | Texture | 635x965mm | - | 30% | - |
| ET701-1 | 216 gsm | White | Texture | 660x1016mm | - | 30% | - |
| ET301-1 | 270 gsm | White | Texture | 660x1016mm | - | 30% | - |
| ES626-1 | 118 gsm | Pearlized White | Smooth | 635x965mm | - | 30% | - |
| ES226-1 | 227 gsm | Pearlized White | Smooth | 660x1016mm | - | 30% | - |
| ES426-1 | 284 gsm | Pearlized White | Smooth | 660x1016mm | - | 30% | - |
| ET626-1 | 118 gsm | Pearlized White | Texture | 635x965mm | - | 30% | - |
| ET226-1 | 227 gsm | Pearlized White | Texture | 660x1016mm | - | 30% | - |
| ET426-1 | 284 gsm | Pearlized White | Texture | 660x1016mm | - | 30% | - |
| ES627-1 | 118 gsm | Pearlized Sliver | Smooth | 635x965mm | - | 30% | - |
| ES427-1 | 284 gsm | Pearlized Sliver | Smooth | 660x1016mm | - | 30% | - |
| ES628-1 | 118 gsm | Willow | Smooth | 635x965mm | - | 30% | - |
| ES728-1 | 216 gsm | Willow | Smooth | 660x1016mm | - | 30% | - |
| ET628-1 | 118 gsm | Willow | Texture | 635x965mm | - | 30% | - |
| ET728-1 | 216 gsm | Willow | Texture | 660x1016mm | - | 30% | - |
| ET328-1 | 270 gsm | Willow | Texture | 660x1016mm | - | 30% | - |
| ES629-1 | 118 gsm | Pearlized Willow | Smooth | 635x965mm | - | 30% | - |
| ES429-1 | 284 gsm | Pearlized Willow | Smooth | 660x1016mm | - | 30% | - |
| ET629-1 | 118 gsm | Pearlized Willow | Texture | 635x965mm | - | 30% | - |
| ET731-1 | 216 gsm | Spruce | Texture | 660x1016mm | - | 30% | - |
| ES632-1 | 118 gsm | Crystal | Smooth | 635x965mm | - | 30% | - |
| ET632-1 | 118 gsm | Crystal | Texture | 635x965mm | - | 30% | - |
| ET732-1 | 216 gsm | Crystal | Texture | 660x1016mm | - | 30% | - |
| ET332-1 | 270 gsm | Crystal | Texture | 660x1016mm | - | 30% | - |
| ES633-1 | 118 gsm | Pearlized Crystal | Smooth | 635x965mm | - | 30% | - |
| ES433-1 | 284 gsm | Pearlized Crystal | Smooth | 660x1016mm | - | 30% | - |
| ET633-1 | 118 gsm | Pearlized Crystal | Texture | 635x965mm | - | 30% | - |
| ET433-1 | 284 gsm | Pearlized Crystal | Texture | 660x1016mm | - | 30% | - |
| ES634-1 | 118 gsm | Pearlized Opal | Smooth | 635x965mm | - | 30% | - |
| ES434-1 | 284 gsm | Pearlized Opal | Smooth | 660x1016mm | - | 30% | - |
| ET735-1 | 216 gsm | Sapphire | Texture | 660x1016mm | - | 30% | - |
| ET335-1 | 270 gsm | Sapphire | Texture | 660x1016mm | - | 30% | - |
| ES736-1 | 216 gsm | Latte | Smooth | 660x1016mm | - | 30% | - |
| ET636-1 | 118 gsm | Latte | Texture | 635x965mm | - | 30% | - |
| ES637-1 | 118 gsm | Pearlized Latte | Smooth | 635x965mm | - | 30% | - |
| ES437-1 | 284 gsm | Pearlized Latte | Smooth | 660x1016mm | - | 30% | - |
| ET437-1 | 284 gsm | Pearlized Latte | Texture | 660x1016mm | - | 30% | - |
| ES638-1 | 118 gsm | Pearlized Cocoa | Smooth | 635x965mm | - | 30% | - |
| ES438-1 | 284 gsm | Pearlized Cocoa | Smooth | 660x1016mm | - | 30% | - |
| ET739-1 | 216 gsm | Espresso | Texture | 660x1016mm | - | 30% | - |
| ET339-1 | 270 gsm | Espresso | Texture | 660x1016mm | - | 30% | - |
| ET341-1 | 270 gsm | Arancio | Texture | 660x1016mm | - | 30% | - |
| ET642-1 | 118 gsm | Cardinale | Texture | 635x965mm | - | 30% | - |
| ET342-1 | 270 gsm | Cardinale | Texture | 660x1016mm | - | 30% | - |
| ET743-1 | 216 gsm | Verde | Texture | 660x1016mm | - | 30% | - |
| ET343-1 | 270 gsm | Verde | Texture | 660x1016mm | - | 30% | - |
| ET344-1 | 270 gsm | Black | Texture | 660x1016mm | - | 30% | - |
FSC

™

Mix *(ES426-1F)




30% post-consumer waste


Elemental Chlorine Free (ECF)
Acid Free
Lignin Free
Green Seal